Lost your password? Please enter your email address. You will receive a link to create a new password.
Close
# LR 1500 is the perfect solution for the Adygeyskaya WES wind farm
# Competent support from Liebherr for complex hoisting work
Russian contractor OOO Avtokran-Tjumen placed an order for an LR 1500 crawler crane from Liebherr at the Bauma in April. That crane is now proving its strengths at the Adygeyskaya WES wind farm where it is erecting 2.5 MW wind turbines. The wind farm's total power rating will be 150 MW.
Avtokran-Tjumen won the tender for the role of main contractor for erecting wind turbines at Adygeyskaya WES wind farm in the Republic of Adygea in the Southern Federal District of the Russian Federation. After conducting extensive technical studies, the company decided that the LR 1500 crawler crane was the perfect solution. The fact that the crane is highly compact is a great benefit in the constricted conditions on the site. The short set-up times and good transport logistics were also major criteria behind the decision taken by Avtokran-Tjumen.
Liebherr has developed bespoke boom systems and equipment to ensure outstanding lifting capacities and extreme economy for almost every one of its crane models used for erecting wind turbines. Crawler cranes are particularly notable for their high capacity and flexibility. The LR 1500 can be used at particularly low cost without a derrick system for wind turbines up to 100 meters in height and with a derrick system for hub heights of up to 130 meters.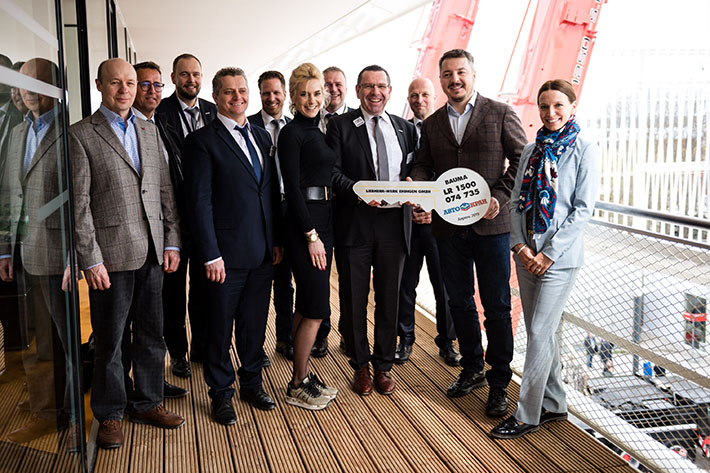 Avtokran-Tjumen and Liebherr personnel at the handover of the LR 1500 at the Bauma 2019.
Avtokran-Tjumen bought its first Liebherr crane in 1999, a used 4-axle all-terrain crane with a lifting capacity of 55 tonnes. Today, the company operates Liebherr cranes with lifting capacities between 100 and 500 tonnes and is involved in many major construction projects from Siberia to Kazakhstan and from Belarus to the Far East.